Boat Fshing services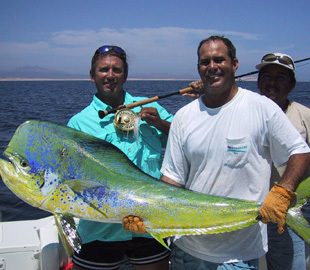 The Fishing DayYour Cabo San Lucas fishing charter begins when you depart the marina around 6:30 AM, returning 8 hours later. Plan on arriving at the Baja Anglers shop (see map) 15 minutes early to go over your
fly fishing or light tackle
needs and to meet our store staff and your captain/mate for the fishing day ahead.
Off Shore Fishing Charters:
Most people consider catching a bill fish on-the-fly or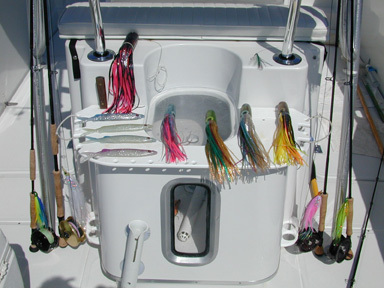 with light tackle to be the
ultimate fishing charter experience
. If marlin are "on-the-bite then go for it! You may also find sail fish, yellowfin tuna, schools or single dorado (mahi-mahi), wahoo and even bigger game like blue and black marlin or swordfish while offshore. The sights are spectacular. Seasonally, whales spout and breach. Dolphin are often everywhere at once. Birds work as Mexican "fish finders".
In Shore Fishing Charters:
Many
fly fishing and light tackle
anglers prefer the in shore action. You can catch 6-8 different species of fish in a day. Each cast is an adventure. Rooster fish, Pacific jack cravelle and Sierra mackerel are great targets. We can occasionally find three types of trevally (big eye, fat lip & blue), yellowtail, giant lady fish, red & cubera snapper, pompano and amberjack close in.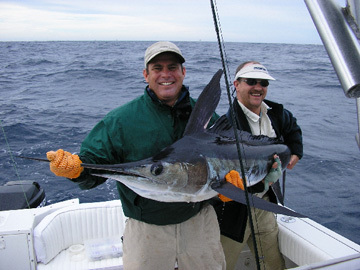 Your Turn Now: Whether offshore or inshore our guides will bring fish in range for fly rod or light tackle casts. If everything is right, if the fish is eager, the cast accurate, the hook well set, your knots hold and your arms stay strong you will have your catch boat side. Our mate and captain will help you with photos, see to a safe release on bill fish and rooster fish or clean your choice catch for the table that night.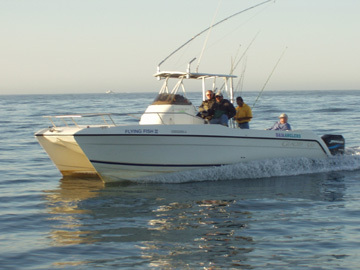 Our Charter Boats
Baja Anglers features custom built, 26 ft., ocean catamarans powered by twin 4 stroke engines that are quiet, fume free and powerful. Our safe and soft riding cats are engineered to handle all sea conditions and have your safety, comfort and fishing convenience built in. You will find clear casting areas fore and aft, T-tops for shade and enclosed head for the ladies aboard.
The boats are fast. You get to the fishing quickly. Your fishing day starts at our shop--just a short walk to board your boat.
Our Fleet Location
Our boats are docked at "M" dock in front of the Baja Cantina... Come by and take a peek, they are the talk of the town.