Rigging and Equipment
Fishing Rods & Reels
Baja Anglers fishing day includes the use of top quality light tackle.
Shimano reels, Loomis rods
are on board. Some light tackle lures are custom designed. Lure usage is included. Lure loss is charged.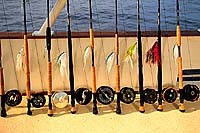 Blue water fly rods (10 wt - 14 wt)
are loaded with high quality
Abel or Loomis reels
are available for daily rental. Having the correct tackle is always important but it is critical when you do battle with big blue water predators. A 50 pound yellowfin tune generates thrust equal to 8 horsepower. Imagine the stress when you hook a 100# plus marlin.
Fly Lines


We use high quality 12#-30# light tackle lines and the best intermediate intermediate and deep sinking lines on our fly reels. Proper lines and line backing are available in-store.
You can use your own leaders but again, the most suitable leaders are found in-store. If you are after world records we carry tippet material meeting IGFA requirements for the Kilogram levels you want to fish.
Flies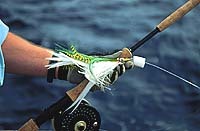 The
flies are designed by Grant Hartman
and specifically replicate local live bait. Most of the 70 world records were caught on Grants flies. A full selection of proven flies are available. A Captain's box of the best flies will be on board your boat. Flies used are charged. Patterns imitate sardines, herring, mackerel and other baits in sizes 2/0-6/0 if you are tying at home.
Recommended Clothing
Clothing should allow you to layer down during the day. Mornings are often cool. Rain/splash gear can add to your comfort. Polarized sunglasses are a must and we offer the best. Great hats are available in store or you can bring the "old reliable".
Live Bait
Finally, know that you will need to purchase live bait or chum each fishing day to help assure the level of action you want.